Last Will & Testament / Living Will
If you need help with a Arizona Last Will & Testament, we can help. In addition the the Last Will & Testament- we offer the Power of Attorney For Financial Management and Health Care Directive & Living Willing.
Do I need a Last Will?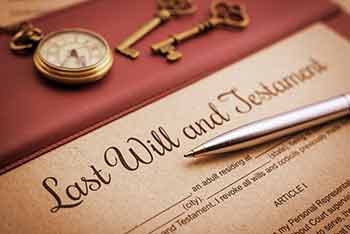 At Affordable Family Law, we believe everyone over the age of 18 should have a Will and Testament. It can be a confusing process and we are here to explain everything. Historically, a will and testament specifically referred to the distribution of your real estate(will) and your personal affects(testament) after your death. However, the document now refers generally to the distribution of both. In addition to a Last Will and Testament, we recommend that you also designate a Health Care Directive & Living Will. You cannot express medical treatment in a Last Will and Testament in the event you are unable to communicate for yourself. Finally, we also recommend that you designate Power of Attorney for Financial Management. Designating a Power of Attorney assures that your legal, property, and financial matters will be handled correctly in case you become disabled or incompetent, or after your death.
There are a few important terms to remember when thinking about a Last Will. A testator is the person creating the will to distribute their property after their death. A beneficiary receives the gifts or property specified in the will. A bequest is a specific gift. The estate is all the property owned by the person who has passed. Finally, the executor of will is the person named to fulfill the wishes of the testator.
Reasons To Get A Living Will or Last Will and Testament
There are several very practical and important reasons for having a will. It is a document everyone should and should continue to update. First, if you do not have a legal will, the State will decide who will take care of your children. In choosing to have a will, you can decide who takes care of children, making sure that they are cared for appropriately and by someone you trust.
Any piece of property, big or small, could be a part of your will. Whether it's value is weighed monetarily or sentimentally, you can make sure anything and everything you have goes to the right person. It is not uncommon for testators to divide up specific items of symbolic value; you want to make sure everything is accounted. This is also good reason to update your will.
Pet owners also want to make sure that their pets receive care. A will is a perfectly good way to make sure that your cat or dog does not end up without a someone to take care of them. If you have the desire to donate to specific organization, a will allows a person to leave any amount to a charity. As the testator, you can leave a legacy the way you wish to be remembered.
In the case that you do not write a will, your estate will be divided by a court administrator. In addition to losing some of the value of your assets, this process could take years. This also means that your dependents must wait a long time to receive their funds. This could potentially burden them with the cost of the funeral, among other things. Having a will reduces estate settlement costs, estate taxes, and potential probate fees that will accumulate with a specific will.