Collecting Child Support
Both parents are responsible for the costs of raising a child. We can help you establish child support, establish paternity, enforce a child support order, modify child support, or terminate support (typically after a child turns 18). If you need help in Arizona, call us for a quote before you call a child support lawyer.
Understanding Arizona Child Support
Each and every parent of an Arizona child has a legal obligation to provide support for their child. When parents either divorce or file to establish child support, the amount of support each parent is required to provide is determined by the Arizona Child Support Guidelines which serves to establish a standard of support for children consistent with the reasonable needs of children and the ability of parents to pay.
Establishing Child Support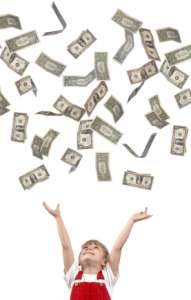 In order to establish child support, the Court has developed a Child Support Calculator that considers the number of children, the ages of the children, the incomes of each parent, the amount of parenting time each parent spends with the children and other factors such as health insurance and daycare expenses for the children. Additional factors, such as payment or receipt of spousal maintenance, support of other children not common to the parties, and extraordinary circumstances such as a child with special needs can also be included. After considering all of these factors, the Child Support Calculator provides an amount of monthly support to be paid by the owing parent.
Unless the parents agree or the Court finds that a deviation from the calculated amount is appropriate, a Child Support Order will be entered requiring the owing parent to pay. In addition, the Child Support Order will identify which parent is required to pay for and provide health insurance for the children, in what percentage uncovered medical expenses for the children are to be paid and a method for reimbursing the parent who incurs such costs, as well as which parent is entitled to claim the child dependency exemption on their taxes each year.
Establishing child support is typically one of the most straightforward areas of a divorce or child custody dispute. Reason being that the Arizona Child Support Calculator only takes the above standard set of factors into consideration. The parents' standard of living and/or expenses are NOT taken into consideration in this calculation because the Court holds child support as an overriding primary financial responsibility of parents. The most common point of contention is establishing an accurate income for one or both parents. This can be an issue when a parent is unemployed, works minimally by choice, does seasonal work, does work for undocumented pay or is under-employed and the other parent wants them to be attributed an income other than the income they claim to make, for example based on their previous employment or at least minimum wage if they are willingly unemployed.
If either parent is not forthcoming with proof of their income, Affordable Family Law can assist you in submitting formal discovery requests to the other party called Uniform Family Law Interrogatories and/or a Request for Production of Documents. Upon receipt of either of these documents, they will be required to submit the requested information and documentation within 40 days. If they fail to do so, you can seek relief from the Court.
Modifying Child Support
If there is a change in circumstances after a child support order has been entered, Affordable Family Law can assist either parent in filing a Petition for Modification of Child Support. You must first make sure that the change in circumstances will result in at least a 15% change in the child support obligation. To do so, simply enter the necessary information in the Child Support Calculator and compare the new amount that is calculated with the current Court ordered amount. The most common circumstances warranting a modification in child support are a change in either or both parents' income – for instance a raise or demotion, a change in daycare expenses – for instance when a child is enrolled in Kindergarten and removed from daycare, a change in healthcare expenses, and/or the birth of another child.
Enforcing Child Support
If you are owed child support and the other parent is not abiding by the Court's order to pay, Affordable Arizona Divorce can assist you in filing a Petition to Enforce Child Support. In addition to requesting the Court enter an order enforcing the existing child support order, you can request that the Court require the owing parent make a lump-sum payment as well as monthly payments toward the past due balance. If a parent's non-payment of child support is egregious and long-standing, you can request that the Court jail the owing parent until a purge payment is made.
Stopping Child Support
If you are paying child support that typically means that an Income Withholding Order/Order of Assignment has been issued by the Court to collect child support directly from your paycheck.
Affordable Family Law can assist you in filing a Petition to Stop the Income Withholding Order/Order of Assignment if all children named in the child support order have emancipated or they will within the next 90 days – meaning they are 18 and not attending high school – and you do not owe any money for back child support. Other more rare instances when a Petition to Stop the Income Withholding Order/Order of Assignment can be filed are when the parties have married or remarried each other, the child support case has been dismissed by the Court, the child named in the child support order has been adopted by someone else and no past-due amounts exist, or the parent or child for whom support is being paid is deceased.
Hopefully if you and the other parent have raised your children to the age of 18, you can reach an agreement regarding stopping child support. In that case, Affordable Arizona Divorce can assist you in filing a Stipulation (Agreement) to Stop the Income Withholding Order/Order of Assignment.
Should I Hire an Attorney?
First of all, no one in Arizona is required to hire an attorney in order to establish, modify or enforce child support. However, one's need for an attorney depends upon each person's unique circumstances. That being said, the majority of cases filed in the Arizona Family Court are done so without attorney representation.
Given that child support is typically the most straightforward area of family law, a lawyer may be an unnecessary expense. Especially when you consider the circumstance – either you are in need of support or you are going to be paying support. Either way, parents might just need someone to guide them through the legal process and completion of the paperwork. That is exactly what we do at Affordable Arizona Divorce. We gather all Court-required information up front. Based on that information, we then explain all available options and allow our clients to select the option that works best for them. From there, we prepare all paperwork according to the Court's rules. Our clients review and approve of everything before anything is submitted to the Court.
Make sure you explore all your options before hiring a costly attorney. Contact Affordable Family Law today to learn how we can help you achieve your child support goals for a fraction of the cost of a lawyer.