The Divorce Store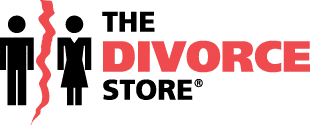 The Divorce Store was a Phoenix institution for about 25 years, but they could have been open longer than that.
"The Divorce Store" had locations in Mesa and Phoenix. If you go to their website now (DivorceStore.com), you won't find anything there.
Have you ever heard of The Wayback Machine? It lets you see what a website used to look like.
Their (old) website can be found here.
You can find their old Yelp page here— which confirms they are closed.
Great News! We also prepare a $399 Divorce!
If you are looking for a company similar to the divorce store, you are in the right spot. Affordable Family Law provides provides the most affordable divorce services in Maricopa County.
No Kids, No Assets

Simple divorce (no need for agreement).
Nobody goes to court or sees a judge!
Does not include property, debt, or assets division.
No Kids, w/ Assets

If you don't have kids, but own stuff together.
You agree about how to split everything.
Takes only 90 days to complete.
With Minor Children

Includes custody, child support, and parenting time.
If you agree, we go to court for you!
Put whatever you want in the papers.
Much like the now-closed Divorce Store, we offer full Arizona divorce packages starting at only $399! Contact us today in order to have us help you with your divorce!